Nanobrow Micellar Makeup Remover for Super Effective Make-Up Removal
Micellar water is a product that's based on micelles which attract dirt, face oil and make-up like a magnet. How to choose the best one though? NANOBROW is a brow brand that offers a game-changer – micellar make-up remover which removes dust, toxins and make-up leaving the skin spotless.
Super-effective make-up removal with Nanobrow Micellar Makeup Remover
removes waterproof make-up and impurities,
conditions and deeply nourishes the skin,
works well on sensitive and atopic skin,
moisturizes, freshens and soothes the skin.
Removing make-up properly is the first step to clear skin. The leftovers of make-up, oil and pollutants on the skin cause the appearance of breakouts, eyelash and eyebrow loss and breakage as well as premature wrinkles. The skin is affected by pollutants which get into its deep layers.
Free radicals and oxidative stress attack the skin every day. They cause hyperpigmentation, overproduction of oil, and enlarged skin pores. To make things worse, they cause damage to collagen and elastin which ensure skin's young looks.
Micellar make-up removers are best for cleansing the face. Nanobrow Micellar Makeup Remover stands out and boasts super precision. The perfect choice of ingredients deeply cleans the skin of the face, eye and lip area. They are great for all skin types and ages.
Nanobrow Micellar Makeup Remover – your new staple for everyday skin care
This make-up remover will leave your skin clear, hydrated and nourished. The face won't feel dry. The product deeply conditions the complexion. You'll enjoy using it!
Make-up removal doesn't need to be the hated part of your day. Nanobrow Micellar Makeup Remover contains mild conditioning substances which combine with the micelles to leave the skin fresh and flawless. It doesn't cause damage to the hydro-lipid barrier, soothes irritated skin and restores balance and harmony.
Nanobrow Micellar Makeup Remover doesn't leave the skin feeling sticky or greasy. It's brilliant for removing all types of make-up products. The mild remover manages to do away with the dirt accumulating during the day. The secret is the structure of micelles which absorb toxins, face oil and the longest-lasting make-up.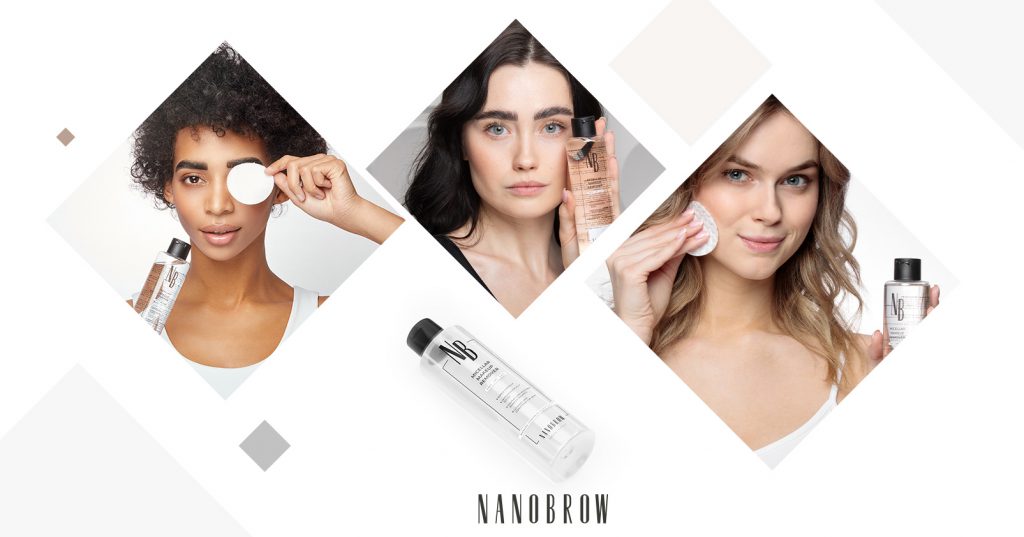 Ingredients in Nanobrow Micellar Makeup Remover
Niacinamide ➜ vitamin B3 derivative, desired cosmetic ingredient for sensitive and rosacea complexions. It soothes and hydrates the skin, strengthening the protective barrier. It reduces pigmentation spots and redness. Niacinamide has anti-oxidative and anit-inflammatory properties, and a great impact on the skin's proper functions. It enhances synthesis of collagen and elastin to firm the skin and prevent wrinkles. Plus it helps get rid of zits and other imperfections. You can count on a fresh, rested-looking face and deep revitalizing effects.
Pomegranate extract ➜ stimulates production of collagen and elastin, smooths fine lines and wrinkles, adds firmness and elasticity to skin. It has anti-bacterial and anti-swelling properties, reducing inflammation and speeding up skin healing. Pomegranate abounds in vitamins (C, B6, E), organic acids and minerals. It makes enlarged pores less noticeable and has a mild astringent effect. It nourishes, hydrates and revitalizes the skin, fighting off free radicals.
Aloe leaf juice ➜ its health benefits have been used for years. It delivers oxygen to skin cells, reduces itchiness and boosts production of collagen and elastin. It soothes symptoms of allergies, psoriasis and acne. Aloe has astringent, antibacterial and anti-inflammatory properties. It helps repair damaged skin tissue.
Keep your skin clear, smooth and fresh with Nanobrow Micellar Makeup Remover!