Ghasel's Body Cream: It Will Be Your Favorite from the First Use!
There are beauty items that we buy once and don't want to buy again. There are others that we use up in a flash – we simply enjoy using them. Ghasel's honey body cream is one of the latter. Once you smooth it across the skin for the first time, you will never want to try a different lotion!
Ghasel Maltese Honey Body Cream for a beautifying body ritual
You'll love using this cream. The velvet-like texture feels nice on the skin while the lovely scent calms the mind. The Maltese honey body cream is amazing after a morning shower to nourish the skin and keep it moisturized and safe from the external aggressors.
Before sleep, it will pamper your senses with the wonderful smell, nourish your body and let the skin repair during sleep so you can wake up with a smooth, soft body.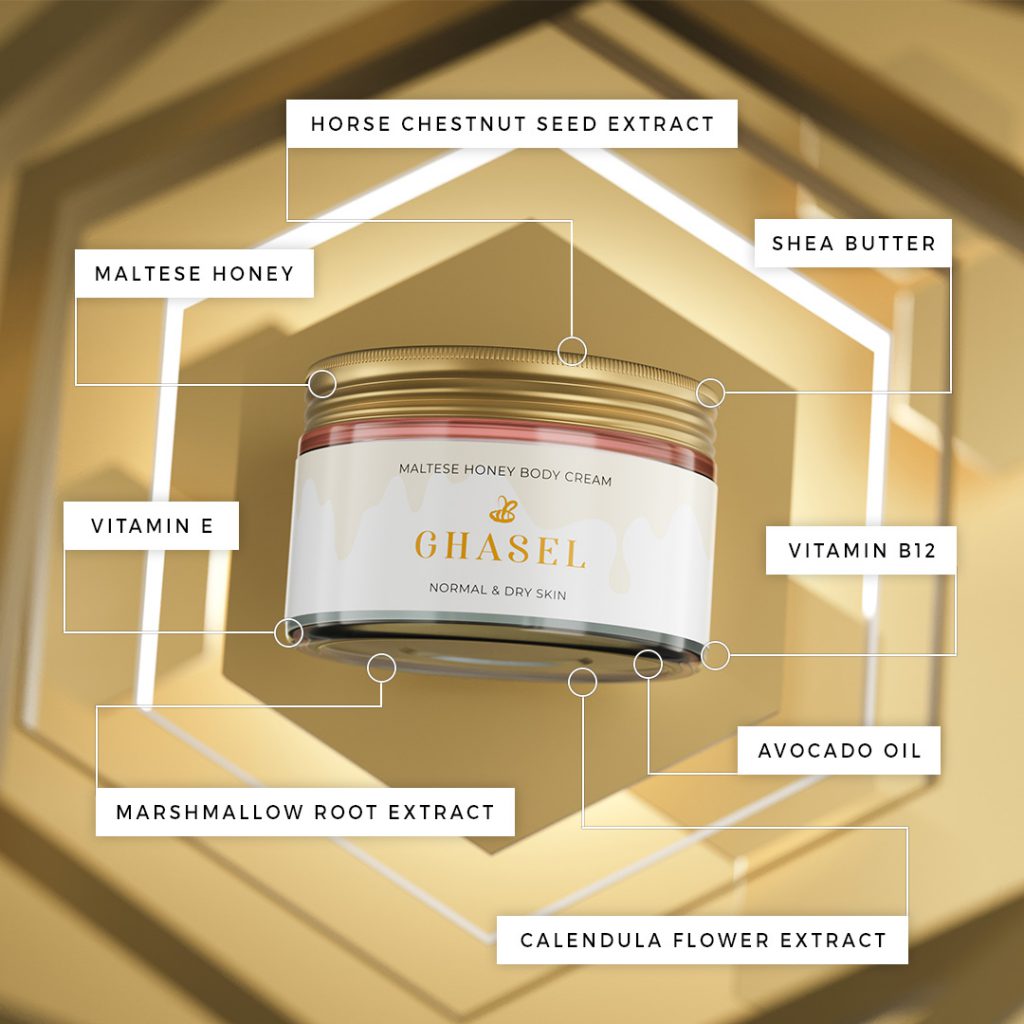 Ghasel Maltese Honey Body Cream: formula
Body cream with Maltese honey? Yes, please! This product has many more wonderful ingredients. Here's a round-up:
Maltese honey – moisturizes, smooths, nourishes and soothes the skin, and has antibacterial effects to keep the skin flawless.
Vitamins with antiaging effects – priceless skin-smoothing vitamin B12 and antiaging vitamin E – strong antioxidants which prevent free radical damage.
Avocado oil – lubricates the skin and helps it stay hydrated, as well as nourishes thanks to a combination of seven vitamins.
Shea butter – a precious emollient substance which revitalizes the skin's hydro-lipid barrier and prevents loss of water, keeping wrinkles away and ensuring skin's elasticity and smoothness.
Chestnut seed extract – a rich source of saponins, flavonoids, vitamins and mineral salts, promoting skin renewal and preventing inflammation.
Calendula flower extract – prevents dryness, soothes irritated skin, and keeps the skin from flaking.
Marsh mallow extract – has softening, anti-inflammatory and moisturizing effects; highly-recommended ingredient in soothing skin care products for sensitive skin.
Ghasel Maltese Honey Body Cream: benefits
Say goodbye to coarse skin lacking elasticity. The Ghasel's pampering body cream with Maltese honey will let your body stay supple and soft. It will improve your skin from head to toe. No more stretch marks, cellulite, dry elbows, knees or heels, and coarse skin. Say hello to the smooth and firm body that you've always dreamt of. Ghasel Maltese Honey Body Cream is a best-seller, appreciated and rated by people across the world. The sweetest product for your best skin!
More information can be found on the official website – ghasel.mt