Nanoil Castor Oil will revolutionise your skin care routine!
Unruly hair and extremely dry skin? There is a solution! No more frizzy, breaking hair and dull skin – with Nanoil Castor Oil everyone can create their perfect and professional skin care routine at home.
Nanoil Castor Oil is a very popular natural castor oil from the Nanoil brand, specialising in natural cosmetics.
Nanoil products have won the hearts of thousands of women around the world, and their iconic castor oil has become an Instagram and TikTok sensation. This is not another greasy and heavy oil that's difficult to apply but a gentle and light cosmetic, perfect for all skin types and different porosity hair.
Nanoil Castor Oil
Composition: cold-pressed, unrefined castor oil (Ricinus Communis Seed Oil)
Size: 50ml
Texture: lightweight and quickly absorbed
Colour: Colourless
Fragrance: delicately nutty
Do you doubt that one product can replace several other cosmetics? You will be surprised!
How to use Nanoil Castor Oil? The best castor oil hacks
anti-ageing face serum: huge amount of valuable fatty acids provide the oil with strong moisturizing and protective effects. Ricinoleic acid maintains proper skin hydration, prevents water loss, rebuilds the natural protective skin barrier and reduces sebum production. The combination of vitamins A and E slows down the skin ageing process, improves the blood supply, and neutralizes free radicals.
night hair mask: the night before washing, apply the oil over the entire length of your hair. In the morning, wash off the oil with a gentle shampoo, then finally massage a few drops into the ends. Hair oil treatment using argan oil can restore many years of damage caused by styling, dyeing, and using the wrong cosmetics. The oil will make you love your hair again, as it will be naturally shiny, resilient and… simply beautiful again.
brow and lash serum: it's no secret that castor oil helps thicken lashes and brows. Nanoil oil can be safely used on the delicate area of the eyes. Apply it with a spoolie, preferably before going to bed.
addition to conditioners, creams, and masks: Nanoil Castor Oil can be used to create your DIY cosmetics at home. Treat it as a "booster" to ready-made products. A few drops of essential oil make ordinary creams or masks super moisturizing.
makeup remover: heavy makeup is best washed off with oils. With Nanoil you can create the perfect oil face cleansing blend by mixing it with your favourite natural oils. Warm up a small amount of oil in your palms and massage your face in circular motions. Then remove excess oil with a cotton pad and a gentle face gel.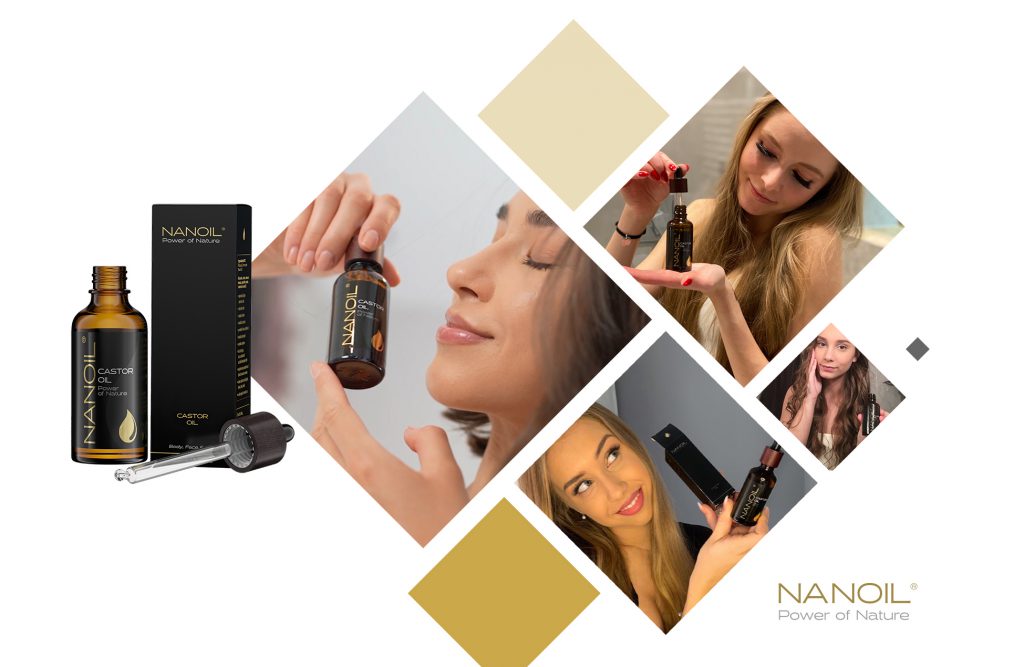 The effectiveness of Nanoil oil is confirmed by hundreds of positive comments on the Internet. What made thousands of customers love it?
100% natural, vegan, and tested composition. I value the brand for creating organic, natural, and high-quality cosmetics certified by Ecocert.
pleasant formula and easy application.
handy, glass packaging with a dropper that dispenses small amounts of the product (nothing gets wasted!).
efficiency and quick results. cruelty-free, vegan formula and short composition.
There is an extraordinary power in nature, which Nanoil managed to enclose in a black and golden bottle. By choosing Nanoil Castor Oil you are guaranteed the highest quality cosmetic, recommended by both specialists in the beauty industry and thousands of beauty professionals around the world. Visit nanoil.us