Ghasel Maltese Honey face Moisturiser – a product that serves your skin on a daily basis
Ghasel Maltese Honey face Moisturiser – a product that serves your skin on a daily basis
A face cream that brings instant results? Sure! It's possible with Maltese Honey Face Moisturiser!
The dryness of the skin is gone and the skin looks glowy and radiant… Maltese Honey Face Moisturiser is the best combination of ingredients, which results in treating your skin the modern way. It's a day and night cream that ensures 24-hour hydration and maximum softness.
With Maltese Honey Face Moisturiser you can easily and quickly restore its radiant color, great condition and natural glow. Maltese thyme honey is the base of Ghasel cosmetic line and the best way to make your face firm and silky smooth. The lightweight formula full of honey spreads without any difficulty, absorbs quickly and is not heavy on the face.
Who is it for?
Are you trying to decide whether Maltese Honey Face Moisturiser is right for you? The product was invented to suit any skin type:
Dry skin – restores proper hydration levels, eliminates roughness and softens the epidermis
Normal skin – provides an essential amount of vitamins, acts as a perfect base under makeup or cream with SPF
Oily and combination skin – tones and tightens the skin, regulates sebum secretion; antibacterial ingredients prevent future breakouts
Mature skin – the cream has anti-aging qualities, prevents the loss of firmness and elasticity, stimulates collagen and elastin production, smooths minor fine lines
Sensitive skin – soothes irritation; calms any redness, restores comfort to the face
Ghasel Maltese Honey Face Moisturiser – composition and properties
The combination of honey and shea butter leaves the skin feeling hydrated and silky smooth. The cream contains a set of vitamins that is the best for skin care, because it protects the skin from pre-mature aging and eliminates those wrinkles that are already visible. Caffeine effectively stimulates tired skin, improving its blood flow and oxygenating its cells. Vitamin B6 assists in collagen and elastin production – the basic components of our skin which are responsible for its flexibility. Green tea leaf extract is a perfect component for problematic skin care routine, because it tones the oily T-zone, leaving a feeling of freshness. Castor oil is an effective lubricant that cares for maintaining proper hydration levels of the epidermis. Because it's biocompatible with human skin it's able to rebuild its natural hydrolipid barrier. Sage extract gently tightens and firms the skin as well as demonstrates antibacterial properties. Vitamin E protects the skin from pollution and external factors, such as temperature changes, UV radiation, dirt or smog. It strengthens the skin, while counteracting the aging processes.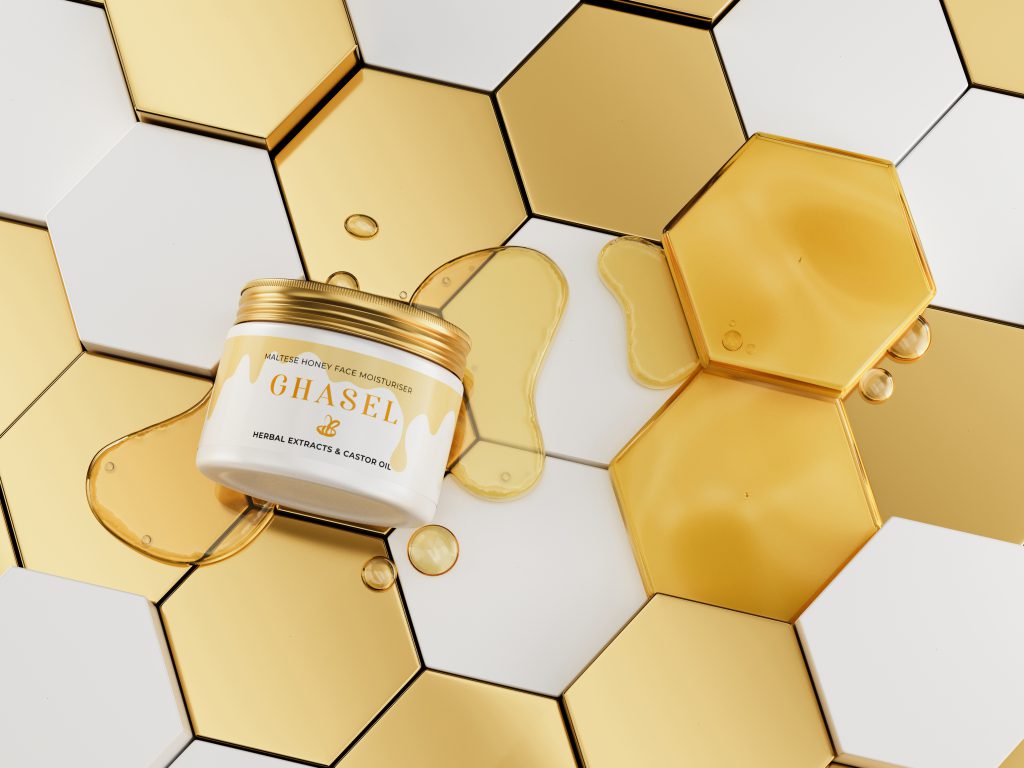 The perks of using Maltese Honey Face Moisturiser daily:
Hydrated skin for many hours.
Valuable active ingredients, vitamins and minerals.
Improvement in skin's condition.
Reduced redness, irritation and imperfections.
Healthy and radiant color of the skin.
Learn more about the product: www.ghasel.mt.