Nanoil Anti-Redness Face Serum for Flushed Face, Burning Sensation & Broken Capillaries
Nanoil have recently expanded their range of products with a new thing. An anti-redness face serum – thanks to combining properties of four botanicals – soothes unwanted symptoms of weak capillaries and hypersensitive skin.
Specialists from Nanoil are true experts in the field of skin and hair care. Even creating a face serum for super-sensitive and redness-prone skin isn't a daunting challenge for them.
The new: Nanoil Anti-Redness Face Serum
After months of testing, here it is finally! Nanoil Anti-Redness Face Serum combines the gentleness of soothing skin products with the effectiveness of salon treatments.
Why should you test it too?
This serum is a very simple, skin-friendly formula packed with botanical extracts, vitamins and moisturizing substances essential to skin.
Because it is designed for rosacea-prone and sensitized skin, it works gently, is weightless and non-irritating.
It is the best choice for a very good price among tons of serums for redness-prone, irritated, sensitive skin.
A perfect face serum for you
However, even if your face isn't covered in ugly spider veins, you can still make use of the blessings of this formula. Nanoil Anti-Redness Face Serum is a great fix for several skin issues.
It is a very effective serum for:
broken capillaries on the face
easily-irritated, sensitive skin
acne rosacea-prone skin
hypersensitive skin which reacts to most cosmetic products
Nothing stands in a way if your skin is perfectly healthy and you want to try Nanoil Anti-Redness in your daily skin care routine. The nourishment and care provided by the botanicals infused into the serum are essential to any type of skin.
Nanoil Anti-Redness Face Serum: components & effects
You won't regret testing Nanoil Anti-Redness Face Serum. It soothes and relieves touchy skin from the first application so don't wait any longer – it's time you gave it a try.
What ingredients will you find in the INCI of Nanoil Anti-Redness Face Serum?
Buckeye extract (known to rosacea sufferers)
Cypress cone and linden extracts
Boerhavia Diffusa extract, infused into all serums by Nanoil
If you're more curious and look into the INCI, you'll also spot moisturizing glycerin, vitamin PP which strengthens blood vessels, and lecithin.
Thanks to all of the ingredients, each application of Nanoil Anti-Redness Face Serum makes the skin better (not just on the outside). Skin irritation doesn't occur that often, redness diminishes, pigmentation marks get lighter. Strengthened capillaries stop breaking while the visible red veins fade to be replaced by smooth face and even skin tone.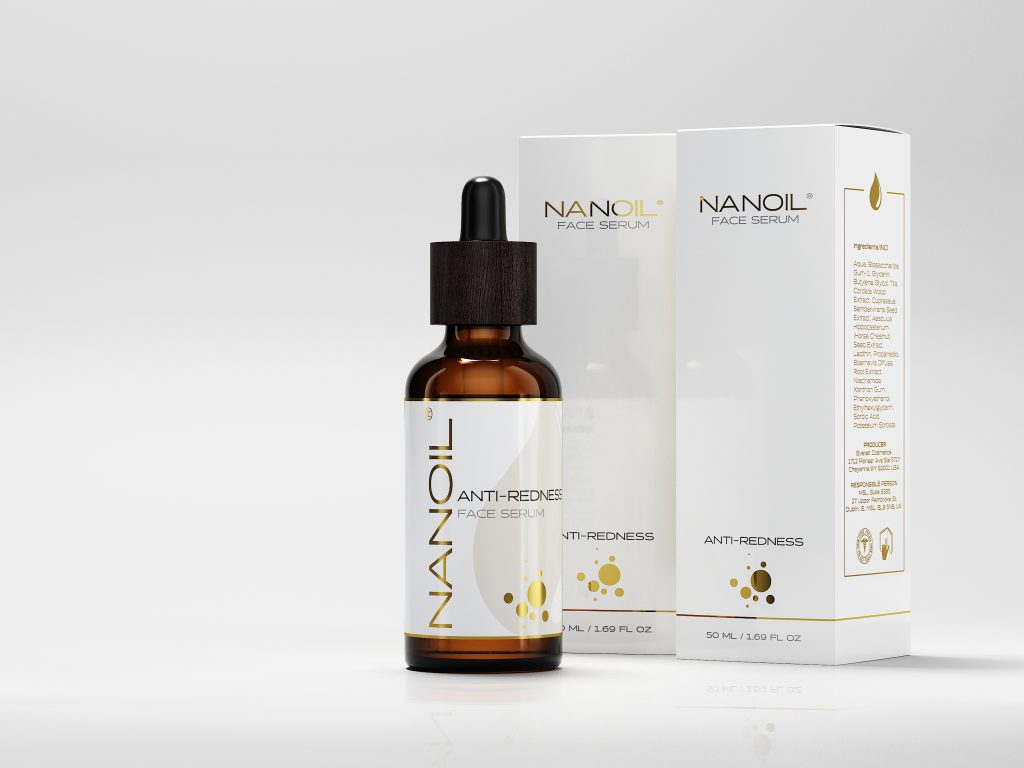 Extremely easy application
Those who fear facial serums thinking they're hard to use should reach for Nanoil Anti-Redness. You don't need any accessories – your fingers will do. Before use, remember about removing make-up and washing the face.
More on the ingredients, effects and use here: