Nanobrow Eyebrow Pomade – Here's The Secret To Perfect Brow Makeup
Are you struggling to find a good eyebrow pomade? Don't feel like testing each one individually to discover what effects it provides? Feel discouraged by the huge selection of cosmetics available in drugstores? How about ordering the perfect product right away, which styles your eyebrows perfectly and ensures the best makeup effects? Discover the secret to beautiful eyebrows and choose the creamy and long-wearing Nanobrow Eyebrow Pomade!
Nanobrow Eyebrow Pomade – the way to beautifully filled in eyebrows
Eyebrow makeup doesn't have to be difficult at all! If you struggle with it though – choose a good product with great durability, consistency, and shade, which can camouflage the gaps and fill in the sparse areas to ensure your eyebrows will always look flawless. A brow pomade is a perfect option for you! It is perfectly thick and creamy, so it provides excellent coverage and allows you to redefine the shape of your eyebrows, do touch-ups easily, outline your brows, and create hair-like strokes in sparse areas. A good brow pomade like the one from Nanobrow is long-wearing and waterproof and provides great coverage and lovely shades. It comes in natural-looking, beautiful, and refined shades while its formula can turn your daily brow makeup into pleasure! The best eyebrow pomades don't have to cost a fortune to beautifully fill in your brows with color and create a long-wear and natural-looking effect in your makeup.
Nanobrow Eyebrow Pomade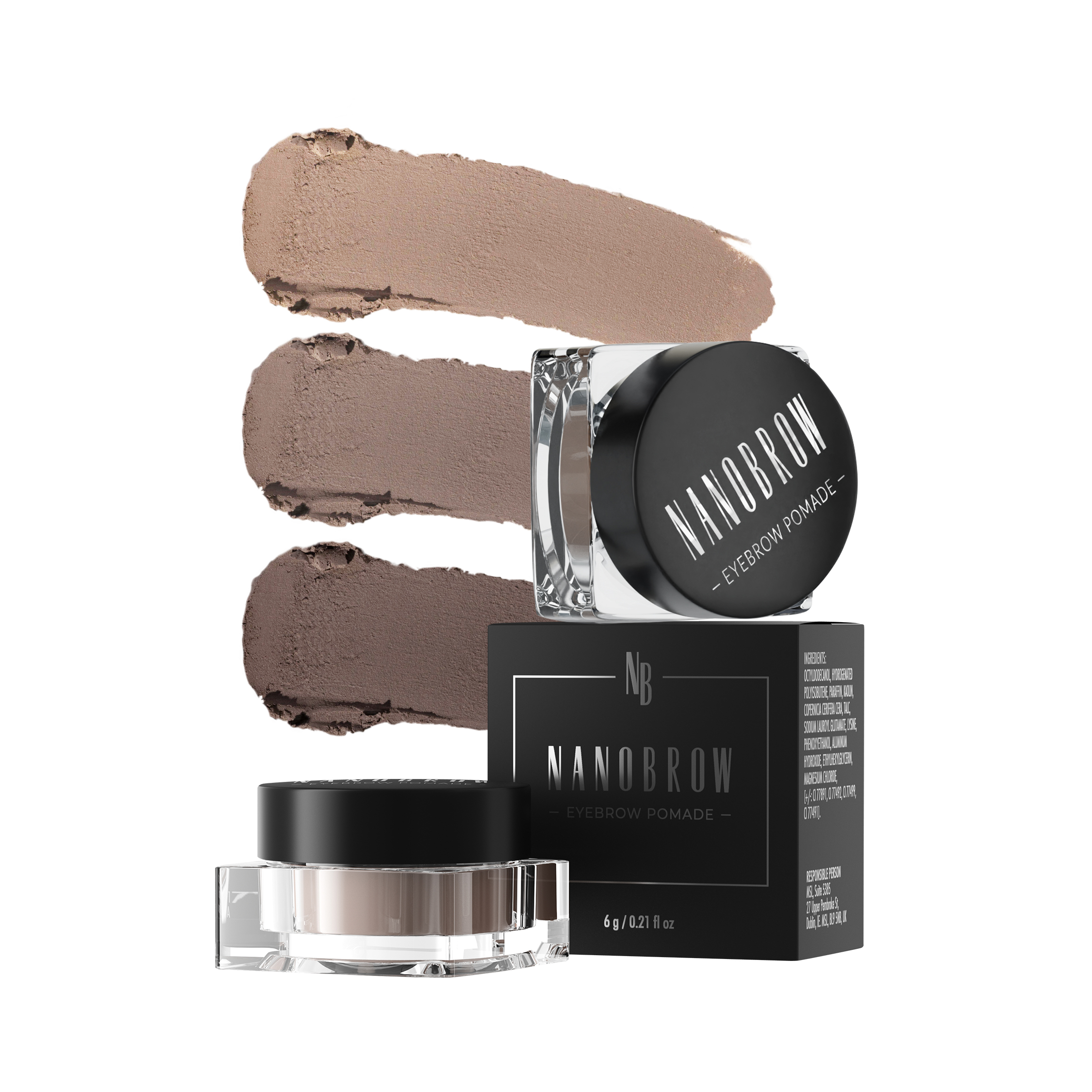 It's available in shades:
Eyebrow makeup with Nanobrow Eyebrow Pomade – a step-by-step tutorial
Fill in your eyebrows with a brush: an angled, flat brush, which allows you to draw thin lines. Scoop a bit of the pomade onto the brush (a really small amount is enough). Outline your eyebrows to give them the correct shape.
If necessary, add some hair-like strokes to fill in the gaps.
Fill in the eyebrows with color, accentuating the tail more strongly. Nanobrow pomade is perfect for enhancing the eyebrows and adding definition.
Using a concealer, draw a line just below the brow bone – this helps to define the bottom brow line and lift the brow visually.
If you want a more subtle effect, simply brush the entire brow gently with a spoolie, removing excess pomade. The Nanobrow pomade ensures natural brow makeup, but if you want a bolder effect, you can create a more intense, evening look.
Nanobrow pomade – makeup effects
A natural look and beautifully defined brows
Good pigmentation and beautiful shades
Precise brow makeup
Long-wearing effect (the pomade is waterproof)
Perfectly matched color, thanks to perfectly refined shades
Bold and fabulous eyebrows in all conditions
Perfectly outlined brows, camouflaged gaps, and sparse areas
Looking for the right eyebrow pomade? You've just found it! The creamy texture and long-wear effects of Nanobrow Eyebrow Pomade are truly impressive. The pomade ensures you can create different effects, from subtle to bold.