See Top Keratin Hair Masks! Roundup, Reviews, Comments
The hairdressers from all over the world are unanimous: The secret to stunning and healthy hair is… keratin! Not without a reason many top hair products such as shampoos, conditioners and masks are enriched with this essential protein.
Which keratin hair mask to pick when there are so many to choose from? Starting from a decent keratin hair mask should do, especially if you're looking for an at-home hair repair treatment. Okay, but which keratin hair mask to choose? We've asked consumers from all over the world for opinions and comments concerning the best keratin hair masks they have used. This allowed us to select the top keratin hair products that are currently available on the market. What are they? Carry on reading to find out.
What Hair Type Is Keratin Hair Mask Dedicated For?
The answer will be short and simple: Keratin hair mask is dedicated for all hair types you can possibly imagine. We know that it may sound improbable but keratin is a really potent protein capable of strengthening and improving the appearance of strands. If you aren't sure whether or not you should treat your hair with a keratin mask, here is the list of the hair types that will benefit most from a keratin treatment:
weak hair
damaged hair
fine hair
dry/dehydrated hair
dull hair
color-treated and bleached hair
shine-deprived hair
hair with tendency to split ends
If you would use at least one of the features mentioned above to describe your strands, this means that they need a keratin hair mask! You can take it for granted that keratin will turn your frazzled hair into a healthy and shiny mane.
Why Keratin?
Over 80% of the human hair shaft is made up of keratin which, as it's easy to guess, is responsible for keeping the hair strong and healthy. Shortages of keratin cause damage and make hair visibly weaker. Hair products formulated with keratin reinforce hair from within and fill up the cracks that appear on the outermost layer. That's why applying keratin to hair regularly results in gorgeous, healthy, lustrous and smooth hair.
Why Keratin Hair Masks?
Hair mask is a cosmetic able to penetrate hair shafts. This means that it knows how to improve the hair and deliver nutrients to the innermost layers. Furthermore, masks satisfy the needs of damaged and normal hair. How so? Simply put, a hair mask is able to repair and reconstruct damaged hair, as well as provide protection to normal and healthy strands. What about other keratin-infused hair products? Let's take a keratin shampoo as an example. This cleanser's main task is to free your scalp from dirt, the keratin repair effect is secondary. Apart from that, the cleansing agents in a shampoo make up the most of the entire composition, meaning that there is little room left for nutrients and proteins like keratin. As for keratin hair conditioners, unlike masks, they are supposed to deliver immediate improvement to strands and help you detangle them, but this affects only the outermost layer of hair. That being said, if you care for exposing your hair to deep repair treatment, reach for a keratin hair mask, which is a product that delivers the strongest and long-lasting results. With this product you will enjoy healthier and shinier strands.
Best Keratin Hair Masks On the Market
1. Nanoil, Keratin Hair Mask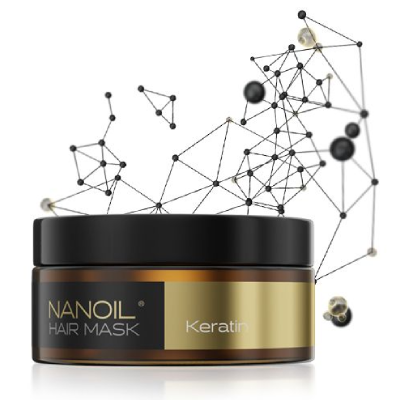 Our rating: 10/10
This Nanoil's offering has stolen our hearts, and our hair clearly fell in love with this product too. We totally understand now what all these positive reviews on Nanoil Keratin Hair Mask come from. Advertised for damaged hair, this Nanoil hair mask works for normal hair too – we tested the cosmetic on healthy strands. We believe that the secret of such high effectiveness is the unique formula. Take the keratin for example, Nanoil mask is formulated with the best and most hair-friendly form of this protein, which is hydrolyzed keratin. Another constituent – panthenol – is responsible for reinforcing the inner and outer hair structures, and improving the general resilience of hair. The effects are noticeable after just single use and last until next shampooing. What can Nanoil Keratin Hair Mask give you? Moisturized, shiny and stronger hair. Lastly, this hair product offers you a few long months of deep hair treatment and embraces your strands with a pleasant aroma every time you use it. We ordered Nanoil Keratin Hair Mask from the official Nanoil store at nanoil.us.
2. Kerastase, Discipline Maskeratine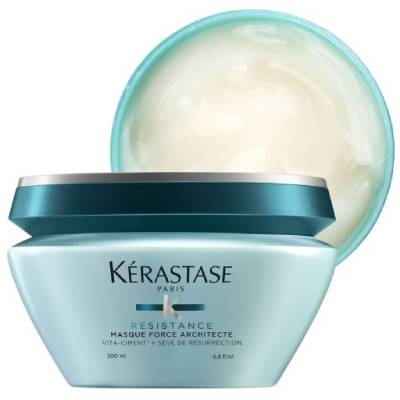 Our rating: 9/10
This is just one out of a few keratin hair masks launched by Kerastase, and Discipline Maskeratine in fact gave us the best outcomes. Even though the users tend to have mixed opinions about this mask's effects, we love it for its beautifully designed packaging and an amazing aroma. It's also worth pointing out that Kerastase Discipline Maskeratine is incredibly good at locking moisture inside the hair, leaving it better-looking and softer. Other positive features of this keratin hair mask include frizz-control, meaning that the cosmetic tames the strands that don't tolerate high humidity well, as well as the fact that you need a small portion of the product per application, which means that it doesn't run out fast. Even though Kerastase Discipline Maskeratine ensures a few long months of keratin treatment, for some users it may be an over-the-budget mask.
3. Alfaparf, Semi Di Lino Moisture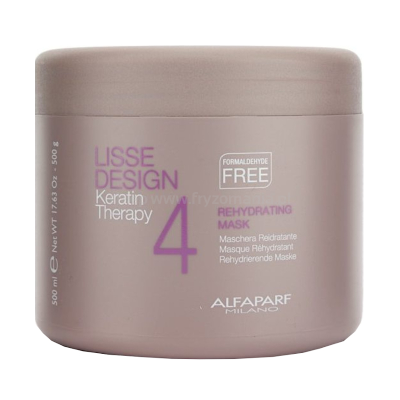 Our rating: 8.5/10
Alfaparf Semi Di Lino Moisture is dedicated especially for dry hair, and you know what? It's truly perfect for dehydrated strands because after a couple of uses, this keratin hair mask turns them into a moisturized and soft mane. It also leaves hair so sleek that a brush glides smoothly along it. The producer recommends keeping the keratin hair mask for 5 minutes but we'd suggest letting it sit for a little bit longer. As our test proved, the effects created by Alfaparf Semi Di Lino Moisture are significantly better if the product is given enough time to penetrate the hair, which is somewhere around 15 minutes. The good news is that this keratin mask is recommended for color-treated hair. Owing to its unique Color Fix Complex, Alfaparf's keratin hair mask provides UV protection and prevents color fade. The drawback, however, is that you have to use much product per application to cover evenly the hair length.
4. Wella, Sp Luxe Oil Keratin Restore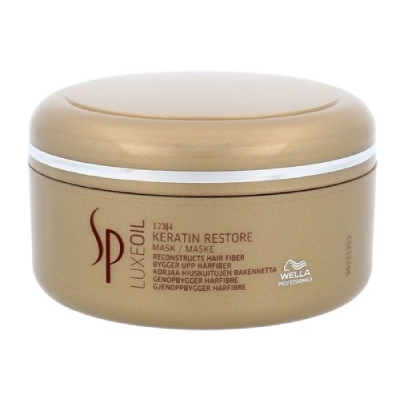 Our rating: 8/10
Wella SP Luxe and its keratin hair mask is undoubtedly an amazing offering recommended by a load of hairdressers – and there is nothing surprising about that! Sp Luxe Oil Keratin Restore is formulated with well-selected ingredients that includes keratin and an oil blend made up of argan, jojoba and almond kernels. The combination of these substances works as a nutrient bomb for damaged strands. When Sp Luxe Oil Keratin Restore by Wella is used on a regular basis, hair becomes visibly smoother and moisturized. Since Wella's keratin hair mask is so amazing, why did we take two points off the total score? As some users claim, this product happens to weigh down fine hair, depriving it of volume.
5. Moroccanoil, Restorative Hair Mask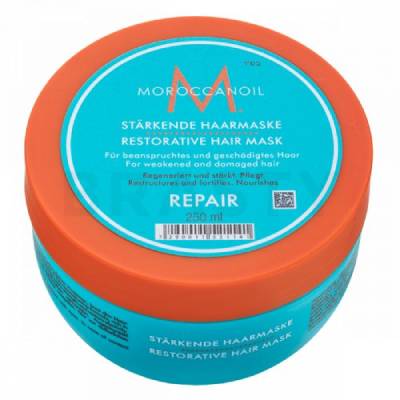 Our rating: 7/10
One of the characteristic features of Moroccanoil is one ingredient used in all their products – pure argan oil originated from Morocco. Apart from this amazing plant oil, Restorative Hair Mask also contains shea butter and other oils which, sadly, are mixed with quite a number of synthetic aromas. The oil blend provides UV protection, preventing the loss of moisture. Plus for being suitable for curly hair that happens to be more demanding when it comes to basic daily maintenance. Despite its big size, this keratin hair mask is pretty costly. It gets even more expensive after realizing that for better effects the producer recommends using Restorative Hair Mask with other Moroccanoil products that aren't cheap either. All the above-mentioned keratin hair masks are more budget-friendly and have better formulas, hence the lowest rating.