The Most Fashionable Hair Colouring With ColorCuts Highlighting Foam Strips!
The Most Fashionable Hair Colouring With ColorCuts Highlighting Foam Strips!
Tired of traditional and boring balayage and highlights? Instead of dull highlights wrapped in aluminium foil, create something extra on your clients' hair! Flamboyage, babylights, sombre, ronze… Modern hair colouring can be easier, faster and provide a three-dimensional results thanks to ColorCuts Highlighting Foam Strips – thermal hair colouring wraps.
ColorCuts Highlighting Foam Strips – are they worth the hype?
Experienced colourists know how important professional hairdressing equipment and cosmetics are in their daily work. Most salons still use aluminium foil. Unfortunately, few hairdressers know that it can cause damage and irritation. The Maltese ColorCuts brand specialises in hairdressing accessories designed for long-lasting and safe use. The reusable colouring strips can replace impractical aluminium foil and last for over 800 uses!
The individual 100 X 305 mm foam strips can be cut, bent, washed and reused freely. This innovative and versatile accessory is not another unnecessary gadget, but a practical tool. The ColorCuts brand is valued by professionals, trainees and apprentices all over the world. The strips provide convenient help in everyday workflow, but are also useful in learning how to colour hair from the basics. Highlighting Foam Strips guarantee successful hair colouring – without stains or damaged hair.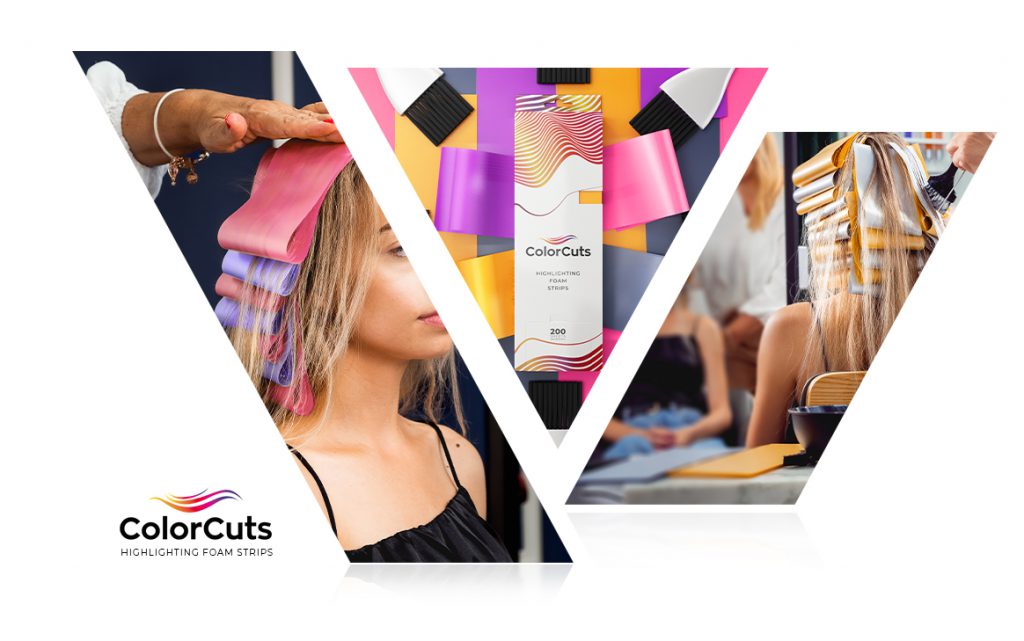 The handy Highlighting Foam Strips let you create multi-dimensional styles that your customers will love. Their unique coating boosts the effect of colouring products, speeding up the colouring process and bringing out the depth of colour. The thermo-insulating polystyrene material maintains the optimal hair temperature and prevents it from overheating. The semi-transparent material ensures 100% control over every stage of the colour change – it's easy to make touch-ups and fix any imperfections. The strips get a grip in contact with moisture from colouring products and stay in place throughout the whole process.
Highlighting Foam Strips are made from high quality 80% recycled and recyclable materials. They are an environmentally friendly substitute for aluminium, created by combining sustainability with technology. The used strips are recyclable. ColorCuts strips ensure you produce precise, multidimensional and vibrant hairstyles in tune with the zero-waste concept. This is a handy hairdressing gadget, created with care for the environment.
Wyświetl ten post na Instagramie
ColorCuts hair colouring strips – properties
Reduce colouring time.
Soft, flexible and lightweight.
Recyclable.
Maintain optimal hair temperature.
Don't slip off the hair.
Don't overheat the hair.
No damage.
Compatible with all types of colouring products.
Allow to easily separate sections of hair.
Provide comfort for stylists and clients.
Semi-transparent coating for constant control over colour change.
Smooth texture.
Perfect fit in the hand.
200 pieces with dimensions of 100 x 305 mm.
Learn more about the product: www.colorcuts.mt.
---