Nanobrow Eyebrow Powder Kit – all you could ever need for your brow makeup
Dreaming of beautiful and expressive eyebrows? Nanobrow Eyebrow Powder Kit will make your dreams come true! The set contains everything you could ever need for your brow makeup – two soft powders and a satin highlighter that lifts eyebrows and highlights your eyes. Learn more about it!
Nanobrow Eyebrow Powder Kit – always perfect makeup
Nanobrow Eyebrow Powder Kit is a combination of a satin highlighter in unique colours. They are characterized by high quality, long-wear performance and fantastic pigmentation. The natural shades adapt to every woman, creating captivating makeup. It doesn't matter what kind of brows you fancy today, this powder kit will let you create the exact look you desire. The velvety, satin highlighter will lift your arches and your makeup will present a wonderful and aesthetic look. It's the perfect kit to use when you want to do your makeup like a pro!
A unique brow palette for every woman
Choose the shade that matches your hair and eyebrow colour and create a personalized look for any occasion. Good brow powders of great pigmentation are easy to blend so creating a stylish ombre effect shouldn't be difficult. The precision, simple blending made Nanobrow Eyebrow Powder Kit enjoy enduring popularity. The brow makeup kit is equipped with a double-sided applicator: use one side to apply powders and the other to apply highlighter. The product's lightweight and powdery consistency fills in every sparse area between hairs, thickening even very demanding arches subtly. The beautiful matte finish is going to steal your heart and your eyebrow makeup will look amazing each time. Don't worry about any corrections. These natural, intensely pigmented shades won't smudge or run down your face during the day and survive in the perfect state under any conditions.
Nanobrow Eyebrow Powder Kit – what makes it so popular?
Nanobrow Eyebrow Powder Kit is the definition of well-selected colours that allow you to create a spectacular ombre effect. You can combine them as you wish as they blend with each other well and ensure natural results. The brow palette is perfect for every beauty type and every skin colour. The intensity of powders can be layered depending on the occasion and preferences. What kind of brow makeup do you fancy today? Prefer an expressive or more subtle look? The Nanobrow powders are going to create the exact effects you expect!
How to do your eyebrows with powders?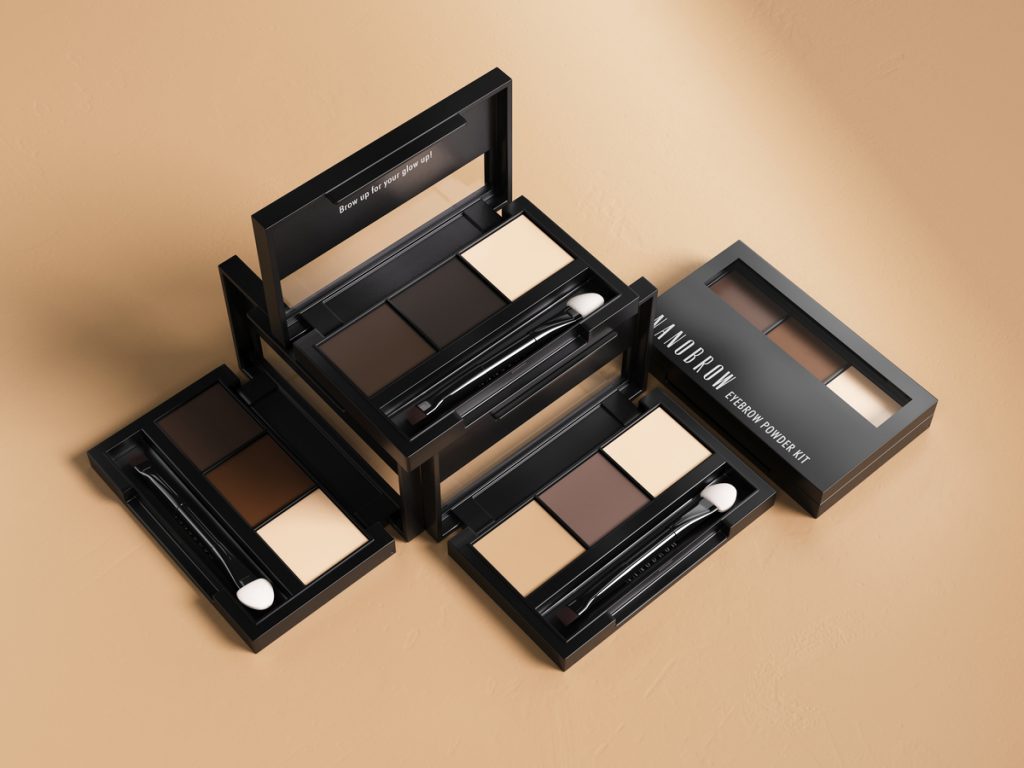 Women have grown to love Nanobrow Eyebrow Powder Kit. It's all because of the fact that it offers wonderfully-selected colours that are very long-wear and create perfect makeup. How to style your eyebrows with powders? It's really simple! Eyebrows done with powders present a very natural look as well as enhance facial features and eye colour. A good brow styling palette doesn't require the use of any setting fixers, however, feel free to consolidate the look with a brow gel or wax in case of special occasions.
Brush through your eyebrows with a spoolie accordingly to the hair growth direction. Next, define their contour with the chosen colour. Use the darker powder at the brow tails and a lighter one at the fronts. Blend the edges in order to achieve an effective gradient. The last step is to set the look with a setting brow gel or wax. If you wish to accentuate the contours even more strongly, you can use concealer. Simply apply it under and above your brow lines and then blend. Your stunning makeup is all done!
Order the kit at www.nanobrow.us, in online drugstores or go shopping in physical perfumeries.